By Brian Child Leave a Comment
I love the America's Test Kitchen and Cook's Country series on PBS!  You too?  I really like how they take recipes that our parents had and re-invent them to today's kitchens and ingredients.  I love how they can work on a recipe and work towards simple great flavors.
This recipe is another in their installments of one-pot dishes.  It has some simple techniques that really does pack a punch in flavor.  I love the garlic paste mixture that you mix with the lemon juice and chives at the end that really gives this dish a nice flavor – I hope you enjoy it as well.
Note:  I sometimes substitute the butter with duck fat.  The duck fat gives it a deep, rich flavor – butter is just fine and turns out great results.  If you can try the duck fat version – trust me, you will adore this dish even more!
Braised Red Potatoes with Lemon Chives
Ingredients
1 1/2 Lbs small red potatoes (unpeeled, halved)
2 Cups water
3 Tablespoons unsalted butter
3 Cloves garlic (peeled)
3 Sprigs thyme (fresh)
3/4 teaspoons kosher salt
1 teaspoon lemon juice
1/4 teaspoon black pepper
2 Tablespoons fresh chives (minced)
Note
Use small red potatoes that measure about 1 1/2 inch in diameter.
Directions
Step 1
Arrange your potatoes in a single layer with the cut side down in a 12-inch non-stick skillet. Add water, butter, garlic, thyme and salt and allow to simmer over medium-high heat. Reduce the temp to medium, place a cover and allow the potatoes to simmer until they are just tender. This will take about 15 minutes.
Step 2
Remove the lid and use a slotted spoon to transfer the garlic to a cutting board; discard the thyme. Increase the heat to medium-high and bring to a vigorous simmer, swirl pan occasionally, until your water evaporates and the butter starts to sizzle. This step will take about 15-20 minutes. When your garlic is cool enough to handle, mince it into a paste. Transfer this garlic paste to a bowl and stir in the lemon juice and pepper.
Step 3
Continue to cook your potatoes, continuing to swirl the pan frequently, until the butter browns and the cut side of the potatoes turn a spotty brown, an additional 4-6 minutes. Turn off your heat, add the garlic paste mixture and chives and toss to completely coat. Serve immediately.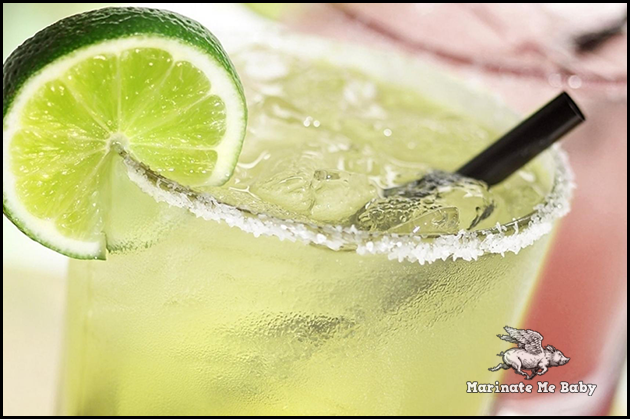 In the depths of Summer, I am looking for anything that will help me beat the heat.  One of my favorite flavors is lime and apple juice.  This recipe fits both of those very well.  You can add different flavorings to mix this recipe up for a million different varieties. Variations: Salted the rim of…