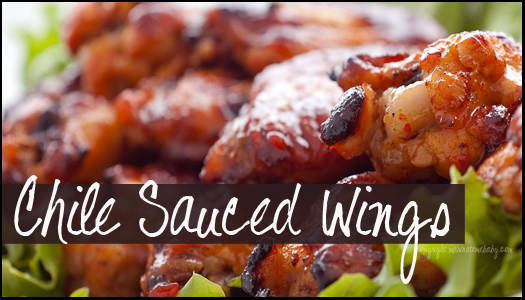 What I love about chicken wings, is they are universally loved by men, women and even small children! They are in the ubiquitous pubs and trendy eateries these days.. However, I have loved these before they were trendy.
I like a lot of you like the traditional "Buffalo's Original (Frank's Red Hot) version. However, there are so many other ways to enjoy these meat pop's.
What I love about this recipe is the sauce is not 'Zappy' Hot – and yet they are sweet. Chile Sauce such as Mae Ploy (I found this at my local grocery store on the Asian Foods Isle), gives this wing that sweet taste.
Friends, this will be the hit at your next gathering!
Chile Sauced Wings
Print recipe
Ingredients
1/2 Cup Sweet Chile Sauce
2 Tablespoons Tahini
1 teaspoon Rice Vinegar
1 teaspoon Soy Sauce
1 1/2 Teaspoons Garlic (minced)
1 teaspoon Ginger (minced)
2 Lbs Chicken Wings
1/4 cup Corn Starch
1 teaspoon Baking Powder
Peanut Oil (for frying)
1 Tablespoon Fresh Cilantro (Fresh, chopped)
1/4 cup Peanuts (Roasted Salted Chopped)
1 Scallion (Thinly Sliced)
Directions
Step 1
In a blender combine your chile sauce, tahini, vinegar, soy, garlic and ginger. Puree until smooth. This should take about 15 seconds. Reserve.